I'd like to thank to some iScribble guys for bringing my DA account out of the dust.
My username is addax12345 (but I go as adakkusu-san) on iScribble if you want to contact me for some reason.
Buttons found on
RequestButtons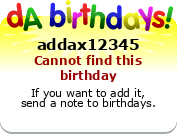 Note: deviantID not mine. credit to creators, whoever are they.
Webcam images backups (just in case)
i3.kym-cdn.com/photos/images/n…
i.imgur.com/8Gyqcjq.gif